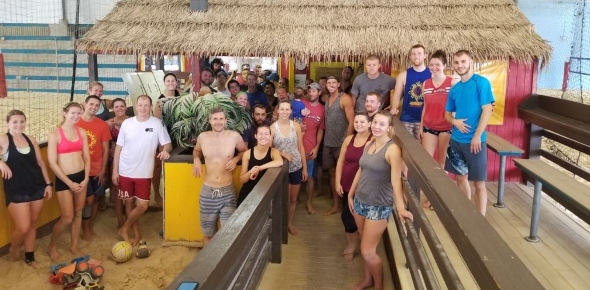 Now featuring indoor courts!
Setters Features
Setters offers Indoor/Outdoor Beach Volleyball All Year!!!! Our philosophy is that Sand Volleyball is for EVERYONE! This sport has enriched our lives in ways we can never repay. It is always a pleasure to introduce new players to the Cincinnati sand volleyball community. JOIN US and get in the game!
Setters Cincy on Beechmont Ave. offers Doubles, Quads, and Recreational Sixes Sand Volleyball Monday- Fridays starting at 6:20, as well as Sundays with a start time of 5:20 p.m.
Our Tiki Bars offer great daily drink specials and the pizza that makes us famous. Order a pie after the game for your team or get one to go! Enjoy your food in an atmosphere where shirts are not required, and you can feel the sand between your toes.
1500 Sand Volleyball players make their way through our facility on a weekly basis. That many people can not be wrong! Welcome to the biggest indoor/outdoor facility in the Cincinnati area. We fill all 9 courts all summer long. Our location is easily accessible in 30 minutes or less from every part of the Tri-State area.
Contact us for your next event. We offer volleyball, cornhole, and dodgeball fundraising opportunities. Setters has rentals for families, volleyball team parties, corporate parties, and birthday parties for children. Call 513-238-2113 for more information.
Starting Winter 1 Session 2024: $75 a player for 8 week sessions. $80 a player for 9 weeks sessions. Winners of leagues and tourney night receive professionally designed graphic t-shirts made of the best mixed blend quality from AllStar Sportswear.
Setters Lounge
Before and after your match, you can hang out in the bar with satellite and big screens. Enjoy happy hour pricing early in the evening and take advantage of weekly bar specials. Great food, good friends and a relaxing summer atmosphere, where you can hang out in your flip-flops.
Upcoming Events
There are no events to display.