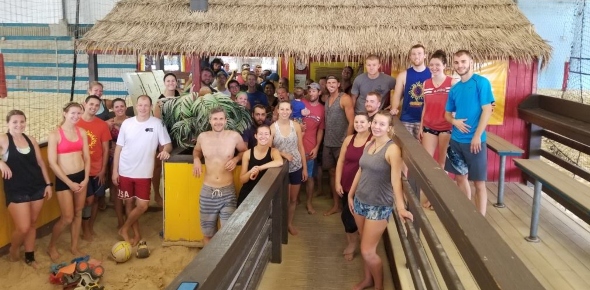 Now featuring indoor courts!
Setters Features
We Offer both Indoor and Outdoor Beach Volleyball All Year!!!! M-F and Sundays
Setters Cincy on Beechmont Ave. offers Doubles, Quads, and Recreational Sixes Sand Volleyball.
We have great daily drink specials and the pizza that we are famous for! Get here early. Happy Hour ends at 6:00 p.m. Check them out. Best in the City!
MONDAYS - Draft Beer Specials on Guys night out, TUESDAYS - Vodka specials on Ladies Night, WEDNESDAY- All well liquors are on special for all the quads we have going on. THURSDAYS - Thursday is the New Friday and Capt. Morgan's is on Special, FRIDAY Night - Everyone needs a night out and we have a deal on Bacardi Flavors
Contact us for your next event. We offer volleyball, cornhole, and dodgeball fundraising opportunities. We have rentals for families, volleyball team parties, corporate parties, and birthday parties for children. Call 859-801-3952.
Starting Winter 2 Session 2016: $68 a player for 8 week sessions. $73 a player for 9 weeks sessions We give out Setters Graphic T-shirts to Winners of leagues and tourney night.
Setters Lounge
Before and after your match, you can hang out in the bar with satellite and big screens. Enjoy happy hour pricing early in the evening and take advantage of weekly bar specials. Great food, good friends and a relaxing summer atmosphere, where you can hang out in your flip-flops.
Upcoming Events
Bring your team to Jerry Malicki's Maragarita Classic. Battle it out against teams from Dayton in this Coed Quad match up where your only obstacles are your skill level paired with the # of margaritas you can drink. Jerry is a cool guy and split this into many levels. It's a fun day. Come out!
The Leukemia and Lymphoma society are pairing up with a YP group to hold a fundraiser at Setters. Bring a Sixes team to the daytime division or Bring a team to the Coed Quads division.
We are proclaiming this Jeremy Casebeer Day. Come out to spend some time with The Lorax. $60.00 pays for your training. When you are done, you should fully expect to have a 6 pack and the skill of an AVP player. We have 55 players signed up already. There are about 10 spots open. Please call 513-238-2113 or message us to sign up. Thank you!
$25.00 a player - Competitive B and above Lottery If you are involved in the training, your entry has already been payed for yourself. If you play on our B leagues, you are invited to sign up to this Lottery - Competitive and Consistent B Players Only (Yes, that is you!!!) Thank you!