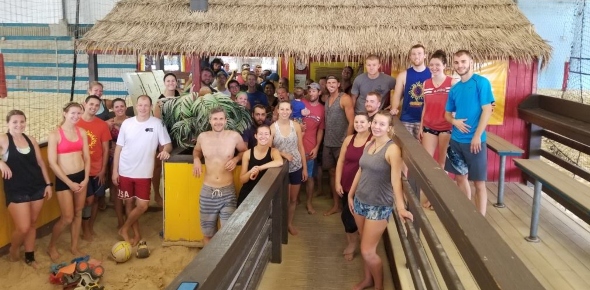 Now featuring indoor courts!
Setters Features
We Offer both Indoor and Outdoor Beach Volleyball All Year!!!! M-F and Sundays
Setters Cincy on Beechmont Ave. offers Doubles, Quads, and Recreational Sixes Sand Volleyball.
We have great daily drink specials and the pizza that we are famous for! Get here early. Happy Hour ends at 6:00 p.m. Check them out. Best in the City!
MONDAYS - Draft Beer Specials on Guys night out, TUESDAYS - Vodka specials on Ladies Night, WEDNESDAY- All well liquors are on special for all the quads we have going on. THURSDAYS - Thursday is the New Friday and Capt. Morgan's is on Special, FRIDAY Night - Everyone needs a night out and we have a deal on Bacardi Flavors
Contact us for your next event. We offer volleyball, cornhole, and dodgeball fundraising opportunities. We have rentals for families, volleyball team parties, corporate parties, and birthday parties for children. Call 513-238-2113.
Starting Winter 1 Session 2019: $72 a player for 8 week sessions. $77 a player for 9 weeks sessions We give out Setters Graphic T-shirts to Winners of leagues and tourney night.
Setters Lounge
Before and after your match, you can hang out in the bar with satellite and big screens. Enjoy happy hour pricing early in the evening and take advantage of weekly bar specials. Great food, good friends and a relaxing summer atmosphere, where you can hang out in your flip-flops.
Upcoming Events
Gobble, Gobble. $25 a player. Come celebrate the holiday with your volleyball family. Sign up with your favorite turkey (partner) for this competitive volleyball tourney. You can also be a lone Pilgrim. Big money for First with 100 players. Be here to check-in by 4:20 p.m.
$25 a player. be here by 4:20 p.m. Food and Fun. Get ready for the Holidays by de-stressing with a fun Saturday tourney. Everyone is signing up single for this Lottery, so it doesn't matter if you have been Naughty or Nice. We will put you on a team. We will be collecting Christmas type canned/boxed foods, Kroger's gift cards ($5 increments), personal toiletries, and small kids toys to be delivered to a local Headstart program in West Clermont.
Start time 9 a.m. Cost is $30 a person. Must be a registered AVPAmerica Player to participate. This is listed as AVP America A-Level for both men and women. Please sign up on Facebook and/or www.volleyamerica.com. Also you can contact Lou at (859)801-3952. First 10 Men's teams and first 8 women's teams are guaranteed in.
This is a Men's doubles B-level tourney only. NO BB or above players should sign up. Please register on FB or contact Lou at (859)801-3952. Cost is $25 a person. Start time 9 a.m. You are not required to be a AVP America member to participate. First 8 Teams are guaranteed in.